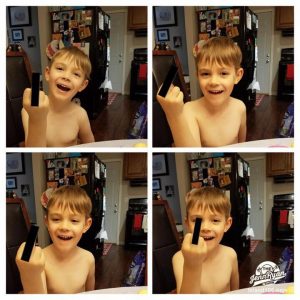 That picture right there, that's my 6-year-old nephew Cooper.  You know how kids say and do things that you KNOW you shouldn't laugh at because if you do it'll come back up at the WORST time; but you end up laughing anyway?  That's exactly what happened over the holiday weekend.
My nephews were dying Easter eggs preparing for the Easter Bunny to come visit.  Because they are typical boys and can't seem to keep clean no matter what you do, it was no surprise when dye was all over the table, floor, his face, hands, arms and yes even the dog.  When my brother was getting Cooper washed off and said "Coop, I can't believe you got dye all over you!" Cooper proudly responded "Not all over me Dad, look 1 finger has no dye on it!" and promptly showed him which one. My brother and his wife couldn't help it, they burst out laughing and immediatly know they were in trouble.
Fast forward to Sunday morning at Easter mass.  Cooper gets all excited and is talking about dying the Easter Eggs and how much fun he had and how he was able to keep at least one part of his hands clean.  When his Sunday school teacher asked him how he was able to do that, Coop said he didn't know then proudly held up his middle finger to her in church to show her it was in fact it's the only finger without any dye on it!  You can only imagine the conversation that my brother and sister-in-law had to have with his teacher.
I know we laughed at this, but we also know how embarrassed my brother and sister-in-law were.  Sometimes, you just have to remember kids are funny without even trying to be…but if you laugh when you shouldn't it's probably going to come back and bite you in the butt!